The Connect Apartments will be a quality and sought-after freehold building in Auckland City. It is designed by leading Architect Paul Brown, managed by the Award-winning provider of professional project management services RCP, with the 2nd largest Construction Company Hawkins. Completion is expected by the end of June 2018.
Unbeatable Location 70-74 Anzac Avenue, Auckland CBD
Connect is located in the heart of Auckland. A stroll down to the boutiques and Cafés of High Street and Vulcan Lane immerses you in a vibrant streetscape of heritage buildings and avant-garde fashion. Or a walk through leafy Albert Park could bring you to the university precincts, and from there it's just minutes to the thrilling theatre district.
Those with an eye for business will be attracted by the proximity to the city's premier corporate addresses, with Shortland Street and Auckland's main street, Queen Street, close by. Blue chip neighbours include numerous multinationals including Vero, Deloitte and the BNZ. The very best that Auckland has to offer, including Britomart's parade of fashionable eateries and the city's main transport hub with trains buses and ferries, all right on your doorstep.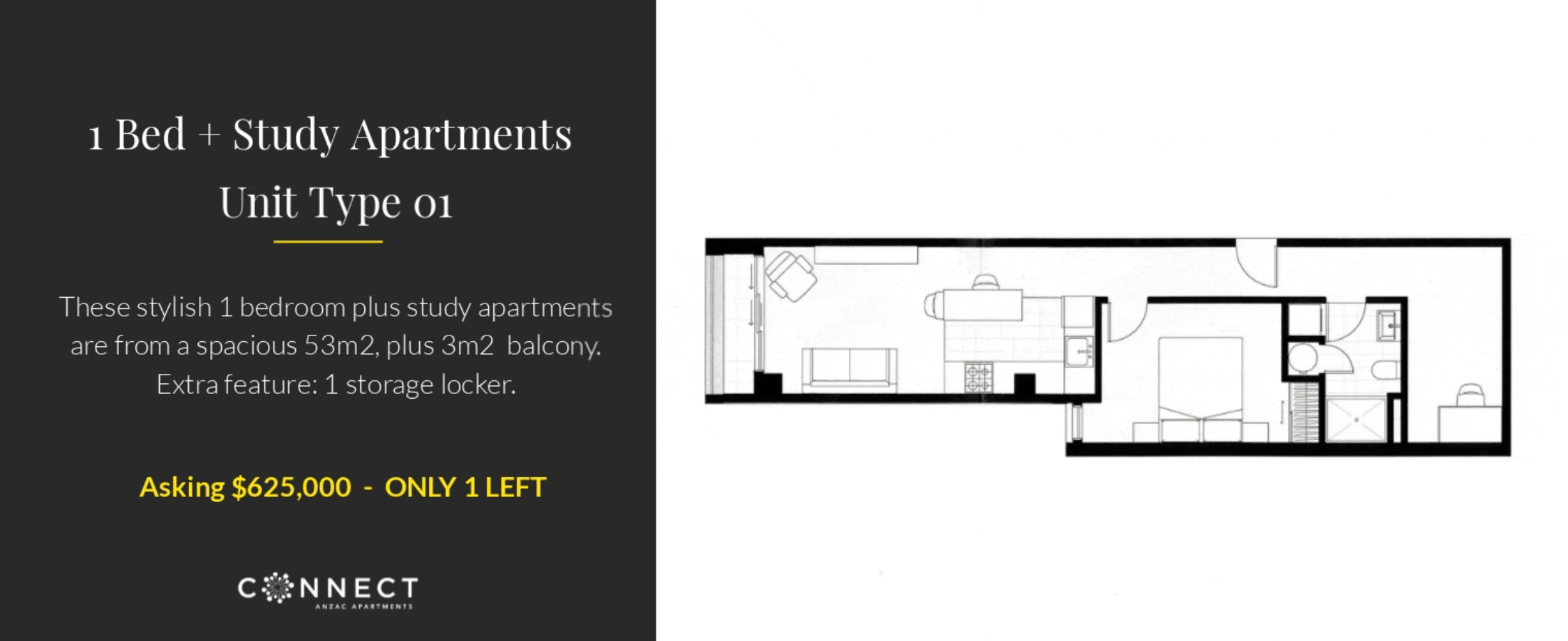 Embrace the new contemporary
Connect is a visionary concept: a fusion of work, study and lifestyle that defines a new expectation for the contemporary urban living. Sophisticated design and innovative thinking connect as never before, creating unique environments that respond to our need for stimulation, or seclusion.
A rendezvous with a view
Our vision of an apartment tower that encourages interaction is personified by a rooftop belvedere with all-weather loggia where dramatic harbour views inspire residents, encouraging friendships that genuinely expand horizons. A premium position that's normally reserved for a lucky few, now open to every resident and tenant to enjoy.
Apartments
A Connect apartment has been designed to achieve remarkable synergies between work and leisure. Practically all of them feature dedicated studies that are large enough to be considered bedrooms in other developments, and when the hard work has been done there are balconies or spacious terraces to refresh the spirit with spectacular vistas. Looking to the north some apartments take in the broad sweep of the Hauraki Gulf, while others embrace the energy of a city that's proud of its glittering skyline.
Each apartment in Connect benefits from the individual attention to detail that ensures a superb living environment. From two and one-bedroom apartments with generous living areas to designer studios with fully equipped kitchens. Connect is a celebration of authentic individuality and distinctive architectural design.
Balconies to every apartment
The tiled luxury of a stylish bathroom
Apartments with dedicated media and study rooms for the business professional or student
Quality Bosch appliances
Please contact Lisa Zhang now OR fill the form below to request more information.