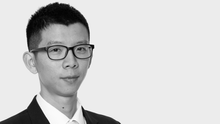 Getting a taste for the excitement and ever-changing dynamics of the Auckland apartment market, after having sold two of his personal investments through the company, Ron decided a career in real estate could be the perfect next step.
Joining the team back in 2011 Ron had a very successful stint working alongside Damian Piggin and Daniel Horrobin, before making the big decision to move back to China with his family at the end of 2012.
Having spent three years in China, Ron found that he was missing NZ and that Auckland was really where he wanted to call home.
Arriving back on NZ soil at the beginning of 2016, Ron has brought back with him his strong drive and passion to excel. Ron is extremely passionate about taking the very best care of his clients, and will go above and beyond, to get results. He has been looking forward to getting back into the industry and re-connecting with past clients and re-joining the dynamic, TeamDD.
With a genuine nature and strong interpersonal skills, these key features help to ensure fantastic relationships are built, and outstanding results are achieved. Specialising in finding his clients their dream or ideal property, Ron is the only man you need to call when you begin your journey to buying in Auckland City.
Ron is fluent in both English and Mandarin.
Education: Conjoint Degree in Psychology and Operations Management
Postgraduate Degree in Psychology
Applied Behaviour Analysis
Real Estate Salesperson Certificate
Previous Work Experience:
Company – Vodafone / Role – Mobile Technical Analyst
Company – Red Beach School / Role – Therapist to children with developmental disabilities.
Company – Ray White City Apartments / Role – Buyers Agent
Company – Savills (Shanghai - China) / Role – International Property Consultant
Agent Reviews
Annan

Purely because of an outstanding service provided by the listing/sales agent Ron Yang. Right from the start, he was honest, punctual, extremely responsive and professionally presented himself and the Ray White brand. I have dealt with many unprofessional/unreliable agents in the past and I must say Ron sets the textbook standards when it comes to customer centricity and the level of professionalism. During the entire duration of engagement, he has never tried typical nasty sales tricks and maintained his integrity - even if I didn't manage to sell my property, I'd still provide this feedback to Ray White but unfortunately Ron was able to sell my place in less than 2 weeks which is just a nice added bonus.