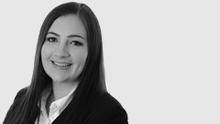 Having worked as a Personal Assistant alongside business owners and top salespeople before I began my real estate career has given me the knowledge and organisational skills to excel in the Auckland City market.
Getting the best price for your apartment comes down to exposure; to connecting with as many qualified buyers as you can and generating as much interest as possible. That creates competition, which in turn helps you achieve a premium price.
That's why I never limit myself when it comes to marketing channels, blending traditional advertising with social media, online advertising and Ray White's state of the art technology to ensure I reach the broadest range of buyers imaginable.
Being a part of Team Yurak, where I'm fortunate enough to work in partnership with my mother, Judi, we provide an extremely personal service; one where communication is paramount and every approach is individually tailored to each client's specific needs. We have both been recognised as top performing 'Premier' and 'Elite' Members since joining Ray White City Apartments.
Outside of the office we enjoy travelling and play an active role in the local community, regularly contributing to worthy causes and charities such as Ronald McDonald House.
I love being apart of the Ray White City Apartments team and would love to be able to help turn your property dream into a reality! Contact me anytime for a friendly chat.
Visit our personal website: teamyurak.co.nz
Judi and Michelle recently sold an apartment for me. Fantastic service from both of them, they were super hard working and very efficient. They kept me in touch all the way, chased up every lead and helped me to achieve a top price. I'm very happy to recommend them. R Mackenzie
Agent Reviews
R & P Rust

We asked Judi and Michelle to market our apartment in the Lister Building and are delighted with the decision. They embarked upon a very thorough and professional programme for the three weeks of the campaign, culminating in a very competitive auction. The property sold very shortly after auction, Judi and Michelle skilfully bridging the gap between the purchaser and us, at a price that we were very happy with.Team Yurak are also a pleasure to deal with and we appreciate their friendliness and the positive, stress-free approach they brought to selling our property. Many thanks Judi and Michelle.