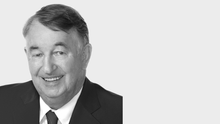 Eric is a worldly man who has travelled widely and absorbed many of life's experiences.  As a younger man and sensing an opportunity for advancement, Eric left New Zealand's shores for Australia a long time before that became fashionable.  That picks Eric out as someone who is determined to make the most of every step and see the 'big picture' and obviously able to bring a wealth of experience to every client.
Eric's commercial life in Australia extended from the hospitality industry to real estate before he was bitten by the travel bug again and felt the need to head East.  Time in China and Vietnam saw him teaching English to the locals, an occupation that well-suited his gentle nature and kindly disposition.  Once again, though, his hospitality and personal skills were recognised and he enjoyed broad commercial experience in public relations, teaching, travel agency work and real estate.
So Eric is a man of many parts.  He knows real estate, he certainly knows how to bring parties together for a successful transaction and these skills have served him well as he made his mark on the North Shore of Auckland where he has had a long run of considerable real estate success.  He is well supported by his wife who runs her own business and matches Eric's strong work ethic.
Get Eric on the task of selling your property – you'll be pleased you made the decision!
Agent Reviews
Mr & Mrs H Tran

To Whom it may concern. Eric Woodcock Listed and sold our home on the North Shore . From start to finish it was very easy for us as Eric took control and led us through the selling process. Being there to meet the building inspector and the bank finance people. We got phone calls every few days updating us also a written report after the open homes in the weekends. The selling price was more than we expected.