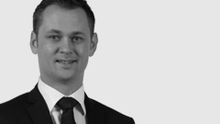 Click here to view all my current listings.
Damian is recognised as an Elite Performer within the Ray White Group, proving consistently why he is ranked in the top 5% of Ray White agents across the nation.
His career in selling apartments began twelve years ago, and his peers have watched him rise to the top, being involved in sales from the ordinary to the extraordinary!
Damian's knowledge of Auckland City Apartments surpasses that of most in the industry, ensuring all his clients; vendors and purchasers alike, leave the CBD more than satisfied with their buying or selling experience. With a reputation for achieving fantastic results, especially in challenging markets such as that of the Apartment market, he explains "My total focus is on getting the job done, with results that leave everybody satisfied." Damian teamed up with Daniel Horrobin in 2007 and have since taken the apartment market to a whole new level, along with the support of Amanda who is employed full time by Damian and Daniel to ensure every aspect of a Vendors requirements are met. Damian and Daniel have since completed a record number of sales in The Sebel in Auckland's Viaduct, Tetra House in Wakefield Street and The Quadrant Hotel in Waterloo Quadrant to name but a few buildings. The primary focus Damian says, 'Is to make the process as smooth as possible in a market that is full of challenges, which includes many aspects not encountered when selling a house.' The bottom line is you the Vendor demand results. Damian and Daniel believe that no one can deliver a better Vendors a better result than they can. So if you are thinking of selling, buying or just interested in the market in general feel free to call Damian anytime.

Damian's Awards
Premier Performer 2007, 2009, 2011, 2012
Elite Performer 2008, 2010, 2013, 2014, 2015, 2016
City Realty Limited Licensed (REAA 2008)
Agent Reviews
Evelyn Tay

Without any reservation, I would like to recommend Mr Damian Piggin of City Realty Ltd, for his efficiency and reliability for our recent sale of our apartment at The Quadrant, New Zealand. He was able to obtain a good price for our unit within a very short period and there was no hassle in the sale transactions. In addition, all our sale documentations were handled by an efficient lawyer recommended by Mr Piggin, thus making our life easier as I live in another city.