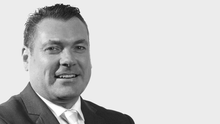 He is back where it all began!
After some time working with another Auckland Real Estate company, Cameron Brain returns to the Ray White group where he started his Real Estate career back in 1990.
With significant changes to the Real Estate industry over the past few years, It was important for Cameron to align himself with an agency who are focused on making positive changes, and who are not afraid of implementing new systems with the use of technology in the changing Real Estate industry.
In March 2013, Cameron accepted an offer to join Ray White's number 1 office in New Zealand (2013) and one of Ray White's more dynamic franchised groups - The City Realty Group", which owns Ray White Apartments, and the recently opened Ray White Newmarket.
Cameron's clients believe that in todays real estate environment it is important to work with an agent who not only has the knowledge and experience but one who is adaptable and can think outside the square, thats why many of Cameron clients not only entrust him to sell their residential home or investments, but engage him to market their commercial properties and large property portfolio's.
With over 23 years working in all facets of the Real Estate industry throughout Australia & New Zealand , Cameron has also been fortunate enough to have worked with some of New Zealand's most recognised and high profile agents, as well as roles within the corporate and training side of the industry.
Cameron is a real estate professional that offers a vibrant & enthusiastic approach to the buying & selling of real estate.
Agent Reviews
Kevin & Melissa Stocker- St Marys's Bay

To Whom it may Concern, Cameron Brain was the agent selected to sell 2 properties for us leaving us pleased with both results. His market knowledge was exceptional as both properties were in very different areas and both sales were above expectations. We then engaged Cameron to search for a new house for us which resulted in not only our dream family home but in a great investment with options. We found Cameron to be very professional, diligent and honest. I would not hesitate to recommend Cameron to friends and family and have done so already Kevin & Melissa